February is Women in Horror Recognition Month, a movement that was founded to support and assist female genre artists in gaining opportunities, exposure and networking. In honour of the event, Sirens Call Publications devotes its February issue of The Sirens Call to supporting the cause and featuring the excellent talent displayed by ladies writing horror.
To better showcase these wonderful women, we'll be featuring them on our blog as well!
Magenta Nero's short story 'Rosary' starts on page 7…
"I find the poor wretch in the tomb like so many who have come before her. Always when a fresh one arrives my fingers sigh a tired prayer over the rosary I wear. I pick the teeth from the remains. It is so long and heavy now, this chain of macabre glamour, wrapping my neck several times.
Abandoned, unconscious. On the slab of stone and wrapped in a shroud of white linen that conceals her from head to tightly bound toes. Yes, she will be reborn, yes she will rise again. Oh how those Above love their own tedious symbolism, the masquerade of faith. Their law requires that she is menstruating when she is delivered, more romantic nonsense. She slumbers within her shell of cloth, soaked and clotted with blood.
I burn incense to revive her. It fills the tomb with heavy, sweet scented mist. As I slowly unravel her, unspinning her cocoon, I marvel at the images printed on the cloth by the blood. Butterfly wings and blooming flowers emerge and strange faces that gaze at me, seeming to pose the question we are not permitted to voice…"
ABOUT THE AUTHOR – Magenta Nero is a writer and visual artist. She began writing at a young age and enjoys weaving her fascination for all things occult, arcane and devious into dark fantasy tales, gothic horror and erotica.
She was born in Italy and has lived and worked around the world. She currently resides on the North East coast of Australia, with her partner and young children.
Twitter: @Magenta_Nero
Blog: www.magentanero.wordpress.com
Rivka Jacobs also graces the eZine starting on page 10 with her story 'Dolls of Bourbon Street'…
"The night was sultry and wound-tight up and down Bourbon Street. Neon signs dazzled and distracted while nightclub barkers called to passersby, trying to attract locals and visitors alike into their establishments, extolling the virtues of their girls whose larger than life-sized pictures were displayed behind plate-glass.
The recessed entrance to the Marigold buzzed under a flickering yellow light. The thumping and pumping beat of some jazz tune could be heard from the inside. Raymond Thompson paused, resisting the 'talker' as the older man tried to yank open the door and shove him in. Behind him were oncoming patrons, but he held his ground as he stared at the posters on display in front of purple velvet curtains in the window to his right. At the top was his sister, Carol Thompson now known as Coral Belle. She was posed behind her over-sized and colorful sombrero, her naked rear-end sticking out past the brim. He hardly recognized her. Beneath Carol was an image of a woman with flowing dark curly hair, her large breasts barely concealed by fawn-colored pasties thrusting in his direction. Lillian Swan, the caption read. The sight of her gave him a chill…"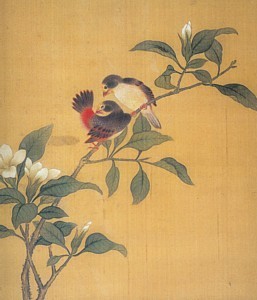 ABOUT THE AUTHOR – I grew up in Miami, Florida, and have lived in West Virginia for thirty-five years. I have a master's degree in sociology and another in mental health counseling. I went back to school in my fifties to earn my BSN. I'm currently an RN specializing in psychiatric nursing. I have one grown son, who lives in Philadelphia. I published several stories in the 1980s, then stopped writing for a number of years. I resumed writing in 2009. I have been lucky enough to have a stories published in The Sirens Call February 2013 issue, "Women in Horror," the August 2013 issue, "Monsters," and the Sirens Call eZine issue #11, "Revenge."
Twitter: @RivkaJacobs
Cassandra Webb's 'Immortality' takes up the next slot on page 14…
"The babe stirred and opened his eyes. He wasn't yet old enough to focus on anyone or anything, but Joseph still felt that the tiny creature was staring at him and his heart fluttered with anticipation.
He shuffled in closer to the crib, almost hitting his knee on the many taps around the base of the frame. The same type of taps used at the winery, Joseph thought. Then without thinking he reached across with one finger and gently nuzzled the fleshy side of the baby.
Joseph's mother slapped his hand away. "Wait," she whispered.
There were twenty people moving carefully around and past the newborn. Twenty sets of narrow villagers eyes taking in the miracle of new life with fascination. Joseph was the youngest and this was the first time he'd seen a baby so young. He lingered by the wooden crib, one specially made with low sides so everyone could offer their blessings, and seek blessings in return…"
ABOUT THE AUTHOR – Cassandra Webb is a chocaholic writer from the small coastal village of Narooma, Australia. She is also a writer of children's and young adult fiction, fantasy and picture books, and creative non-fiction. She grew up in rural and remote Australia and remembers riding horses, working with helicopters and being homeschooled. Now on the coast with her two children she enjoys the beaches in summer and the nearby snowy mountains in winter.
Twitter: @caswebb1
Website: www.cassandrawebb.com
And Linda Harris Sittig rounds out our first feature with her story 'The Gift' which starts on page 16…
"Sweat ran in rivulets from her armpits to her waist.
What the hell? She pulled up her tee shirt.
She hadn't perspired this much since high school, but the clammy wetness caused her to jump in the shower.
That episode happened a few weeks ago, and she hadn't thought of it since.
"Christ, it's a nursing home day," she muttered aloud. God, she hated old people. They smelled like piss, they drooled when they ate, and all they talked about was their last bowel movement; if they could even remember it. I'd rather be dead than get decrepit like that.
Her ninety-year old mother-in-law lived cocooned in a high-rise retirement facility that kept the elderly from being a visible burden to society. Carole only accompanied her husband on visits because he gave her Sarah Coventry jewelry as a trade-off.
Today's visit turned out to be predictable, just like all the others…"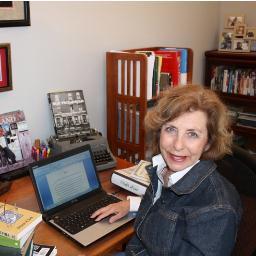 ABOUT THE AUTHOR – Linda lives and writes near the northern tip of the Shenandoah Valley. Recognized by the Virginia Press Association with two certificates of merit for her 20 year newspaper column, her short stories and articles also appear in several anthologies and journals. Passionate about strong women, she pens a monthly blog in which she pays tribute to women who have made a difference in this world. Cut from Strong Cloth is her new novel about one such woman in the American Civil War.
Twitter ID: @LHSittig
Blog: www.strongwomeninhistory.wordpress.com
If you like what you've read so far, why not download the issue for FREE? There are other wonderful pieces of fiction and poetry waiting for you!